Bridal Jewelry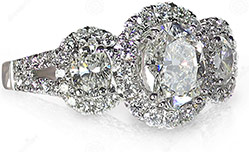 You want your bride to have that special one-of-a-kind ring that won't be seen on any of her friends' hands. She'll love you even more when you give her a ring custom designed at Kimberly's Jewelers in Ft. Walton Beach, Fl. We can even make you a matching wedding band to showcase your union and love.
When you shop big name bridal jewelers, you'll just pay more. Kimberly's in-house designer styles will be beautiful and give you great savings. You can certainly use that money somewhere else – perhaps on the honeymoon.
Along with custom designed rings, we have beautiful bridal jewelry. Jewelry can make or break a dress, and you want to have the most options possible so you can find the one great piece to make your dress even more special.

We carefully choose our bridal jewelry so that our pieces are as unique as possible. Whether you want diamonds, pearls or any other precious stones, we have fabulous necklaces for your selection.
We also have bracelets and rings that can add an eye-catching look to a sleeveless or strapless dress. We have everything you need to make you look your best on your special wedding day.
Bridal jewelry must match your taste, your gown and your budget. At Kimberly's Jewelers, we strive to have the best selection of jewelry to match your desires.
Call or visit us now to inquire about the many bridal options available to you.
Contact Us Today!