Welcome to Kimberly's Jewelers
When you have a special occasion such as an engagement, a wedding, an anniversary, or any other special event, there is no better choice than buying a great piece of jewelry to commemorate the occasion.
In Fort Walton Beach, Fl, there is only one place to consider when shopping for jewelry – Kimberly's Jewelers. We specialize in all kinds of unique jewelry pieces, from diamonds to precious and semi-precious stones to pearls and anything you can dream up. We make sure that we create one-of-a-kind pieces to make your girlfriend, fiancée, bride or wife of 50 years feel all the more special. We are conveniently located and proud to be your local Fort Walton Beach, Crestview and Destin. We service people from all over Okaloosa County.
Our diamonds are always of the highest quality. We inspect each one to ensure there is no inconsistency in the quality, putting your mind at ease when you purchase a great piece of jewelry for any event.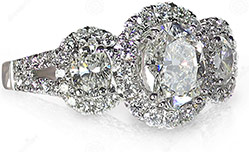 Finest jewelry since 1985.
Get engaged with us. We can provide the highest quality precious stones and jewelry, and we can do so at the best prices you'll find in the Ft. Walton Beach, Fl., area. Find a great diamond ring or any other item by stopping by our store or giving us a call right now!