End of Summer/Fall
The sun-drenched days of summer are beginning to give way to the arrival of fall. Now is an opportune time to contemplate how to make the magic of autumn even better. Kimberly's Jewelers is here to help with exactly that.
Our creations are more than just jewelry; they are embodiments of elegance. From the sparkle of our diamond rings to the significance of our engagement rings, every piece is crafted with care. Fashion may evolve, but our jewelry remains fashionable, ensuring that your piece retains its allure for years to come.
With a legacy spanning generations, we bring to you the expertise that only experience can deliver. Each member of the Kimberly's Jewelers team is driven by a genuine passion for jewelry, driven to make any of life's occasions even more extraordinary. Our treasure trove boasts an array of items, with our artisanal jewelry meticulously fashioned right in our very own studio. When a distinct piece of jewelry is your pursuit, Kimberly's Jewelers in Fort Walton, FL, is your sanctuary, where dreams turn into tangible expressions of beauty and love.
Why postpone the joy of discovering your ideal engagement ring, wedding band, or gift? Join us at Kimberly's Jewelers and uncover the personification of your aspirations. A visit to our store promises the discovery of precisely what you need to elevate your fall season. Reach out to us now to explore our curated collection or to embark on the journey of crafting a custom-made masterpiece. At Kimberly's Jewelers, we're not just selling jewelry; we're crafting memories.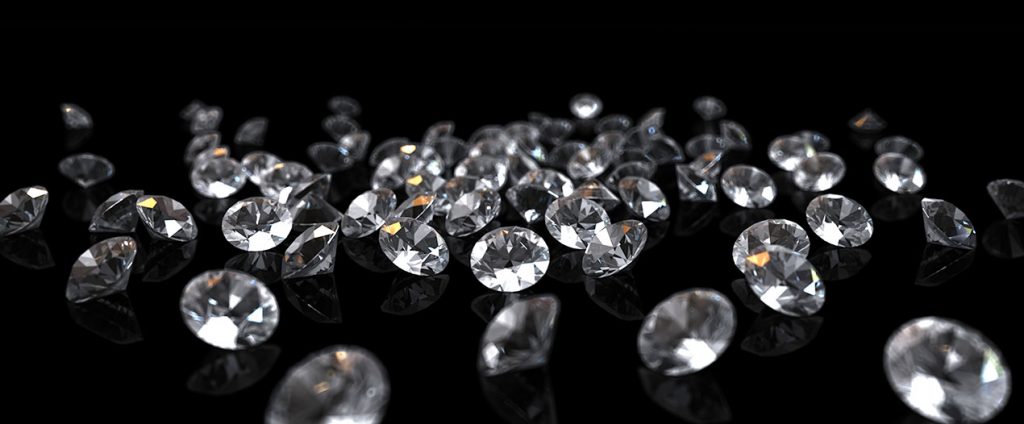 Call on the diamond experts
Whether you're planning to pop the big question, celebrate an important milestone or just want to
show your love to someone special, the diamond experts at Kimberly's Jewelers can help you make the
decision about what to buy.
Whether natural or lab created diamonds or another precious jewel, Kimberly's experts will make sure
you get exactly what you want. You may want rings, necklaces, bracelets, earrings or any number of
special gifts.
Before you walk in the door, considering your budget is the first step. You can definitely be happy with a
gift within your price range.
Consider the likes of the person who will be receiving the gift. Speak with family members or friends, or
perhaps ask discreet questions to get the answer you need about likes and dislikes.
Not only do you want the gift recipient to be happy, you should be happy with your purchase.
Kimberly's Jewelers can help with diamonds, as well as other jewels. Simply tell them what you want or
look around the shop to see what strikes your fancy.
Your purchase won't be wrong when you get help from the diamond and jewelry experts at Kimberly's
Jewelers.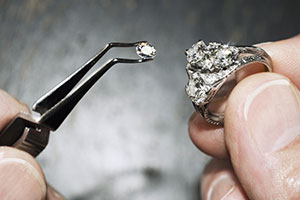 Custom Diamond Bridal Jewelry
he union of two souls, bound by love, is an enchanting event that remains etched into an individual's memory forever. Undoubtedly, a wedding holds unparalleled beauty, especially for the beautiful bride-to-be. The dream is to orchestrate a flawless celebration of love, one that is hard to forget.
Planning such a significant occasion can be a rollercoaster of emotions, with virtually countless variables often rearing their ugly head. Yet, within the whirlwind of preparations lies the opportunity to craft a truly unforgettable experience. This is where Kimberly's Jewelers steps in, creating brilliant pieces of artistry that embody the essence of love.
Each meticulously crafted piece from Kimberly's Jewelers is designed to add an exquisite touch to your special day. Be it a necklace that gracefully adorns the bride's neckline, a bracelet that embraces her wrist, or a ring that symbolizes eternal devotion – we specialize in curating the jewelry that will make her shine brighter than ever.
Our precious stones, including diamonds and pearls,, can be tailored to her preferences, fitting any taste and budget. She'll be sure to love it! At Kimberly's Jewelers, we believe that every love story is exceptional, and the jewelry that accompanies it should be too!
Unlike the ordinary, mass-produced jewelry offered by prevalent retailers, we pride ourselves on offering exclusive and extraordinary products at affordable prices. A wedding day deserves nothing less than the experience of a lifetime, and we promise to make your bridal jewelry as memorable as the love that brought you together.
Explore our website to discover all our possibilities of custom bridal jewelry. For any inquiries or assistance, our dedicated team is just a call away. Let us be a part of your unforgettable journey as you step into a new, and exciting, chapter of love on your wedding day. Let Kimberly's Jewelers help your love shine the brightest!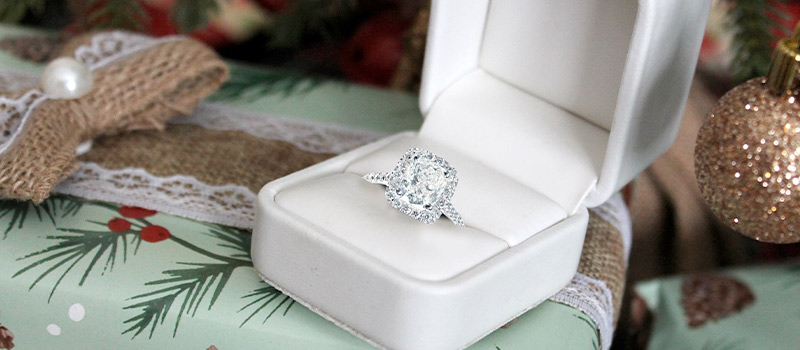 Make This Year Unforgettable with Kimberly's Custom Jewelry
The holiday season may be over, but the desire to give extraordinary gifts to loved ones doesn't have to end. As spring approaches, it's the perfect time to start thinking about how you can make this year unforgettable for your significant other, whether they are a new flame or a long-time partner. Custom jewelry is a timeless and romantic way to show your love and appreciation for your special someone.
At Kimberly's Jewelers, we understand that choosing the perfect custom jewelry piece can be a daunting task. That's why we pride ourselves on our ability to accommodate our customers' needs to the best of our abilities. Our expert jewelers have been bringing your visions to life since 1985, offering a wide selection of high-quality materials to choose from. From classic diamond engagement rings to unique and trendy pieces, we have something for everyone.
We are committed to providing our customers with the highest level of service, regardless of their budget. We offer affordable payment plans to help make your dreams a reality. Our passion for creating one-of-a-kind pieces of jewelry has earned us a reputation as one of the most trusted jewelers in the Fort Walton Beach area.
So why wait until later in the year to make a big proposal or give an unforgettable gift? Contact Kimberly's Jewelers today to create a truly unique and spectacular piece that will make your beloved feel loved and cherished. Our expert jewelers are here to guide you through the process and bring your vision to life. Make this year unforgettable with custom jewelry from Kimberly's Jewelers.
holiday gift guide
The holidays are finally here and time is running out to get your special someone the perfect gift.
Whether you're a last minute shopper by virtue of a busy schedule, or not being able to decide on a gift, it doesn't matter. Kimberly's Jewelers is here to help with all of your last minute holiday needs.
We understand, better than most, that choosing the perfect piece of fine jewelry can seem like a tall order. There is an array of options and oftentimes the pieces can all begin to blur together due to a lack of variety. Luckily, here at Kimberly's Jewelers, variety is not our issue! We are proud to offer a wide selection of custom jewelry guaranteed to make anyone's holiday season unforgettable.
We have been providing Okaloosa County with the finest jewelry since 1985. We take satisfaction in knowing that our pieces are unique and high quality. Our diamonds and precious metals are top-level and extraordinarily beautiful and each have the potential of customization. Why waste time searching endlessly for the perfect piece when you can have it catered specifically to your desires?
Kimberly's Jewelers can proudly accommodate most wants, needs, or budgets. We offer several payment plans in order to appease the needs of the many. Our goal is to have our customers leave the store knowing that they made the right decision. We believe that each customer should be guided with the same knowledge and expertise, and eventually leave with a truly distinctive piece. Contact us this holiday season and let us help you create a simply remarkable gift.
This Year's Holiday Gift Giving Ideas
There are so many reasons to be excited about the holiday season. We are often given the opportunity to visit family, eat delicious food, and take a well deserved break from our hectic lives. The joyful energy is resonating throughout the Emerald Coast, and it's time to start planning for the holidays. The biggest question many have during this time of year is concerning gifts. The process of buying a gift for someone can sometimes be nerve-racking. Even more so, choosing the perfect gift for that special someone can be all the more worrisome. Here at Kimberly's Jewelers we do our best to help alleviate some of those worries when choosing fine jewelry.
Kimberly's Jewelers proudly gives our customers the freedom of customizable jewelry. We believe that having the option to customize fine jewelry gives our valued customers the best chance of giving an unforgettable gift. We can oblige practically any needs, or wants, that our customers may have. Our fine jewelry comes in an array of different high-quality materials, and our precious stones are carefully fostered with their quality in mind.
Not only do we offer stunning and customizable fine jewelry, but our prices are also affordable for most budgets. We offer several payment options and plans in order to be as accommodating as possible. Everyone should have the opportunity to bestow a unique and memorable piece to their special someone. Contact us this holiday season for a speedy, affordable, and elite service. Happy holidays! We look forward to making your vision come to life.
Holiday Gift Giving
The holiday season is upon us and it will soon be time to plan your gift list! Every holiday gift especially jewelry, is significant but sometimes it can be difficult deciding what to get certain people – especially that special someone! Luckily, we know for a fact that you can never go wrong with tastefully made jewelry. Here at Kimberly's Jewelers, we offer a wide selection of jewelry perfect for gifts of any occasion!
Our jewelry ranges from watches and bracelets to necklaces and rings. The most unique aspect of our jewelry is that it is all customizable! We strive to ensure that your jewelry is like no other, and this makes our selection the perfect decision for a gift.
We offer the finest selection of jewelry with the highest quality materials. The stones on our jewelry are carefully selected, and cared for, to assure the best product. Additionally, we make it our goal to keep our prices competitive and relative to any budget. We know that the holiday season can be stressful so we make a clear effort to be accommodating.
The perfect gift isn't far! Kimberly's Jewelers has been assisting in holiday needs since 1985. Our expertise and knowledge will help satisfy our customer's needs. We provide the highest quality stones and tasteful customization that will be sure to have your recipient enamored.
Don't let the holiday season leave you scrambling to find the perfect gift. Let Kimberly's Jewelers assist you in finding the perfect piece for that special someone. Contact us today for any questions or information you may have that isn't found on the website. We look forward to helping make your holiday even more special!
Designing Custom Jewelry
The gesture of buying fine jewelry for your special someone is a very notable occasion. However, this occasion can also bring about unwanted stress. Jewelry is expensive and choosing the right piece can seem like a substantial decision, and investment. The feelings of uncertainty associated with buying fine jewelry can be amplified when the pieces offered can seem repetitive, and frankly, boring. Your special someone deserves a one-of-a-kind piece, and Kimberly's Jewelers in Fort Walton Beach, Florida is here to help you give it to them.
Here at Kimberly's Jewelers we understand, better than most, that choosing jewelry can sometimes seem uninteresting. This is especially true when many jewelers offer the same bland, uninspired, options. We take pride in deviating from other jewelers. Our goal is to help you create a unique piece that your special someone will be sure to love. We've had this goal since 1985 and have helped individuals across Okaloosa County customize the perfect pieces.
Our jewelry is crafted out of the finest materials and specially cared for in order to look its best. We offer the highest quality diamonds and precious metals with several customization options for each. Our aim is to satisfy various budgets and tastes. Our diamonds are carefully selected and our precious metals range from silver to white gold. The customization options are seemingly endless!
There aren't many jewelers that are going to offer a fast, reliable, and moderately priced service like Kimberly's Jewelers does. We take satisfaction in being a jeweler that has all of those characteristics while also customizing the perfect pieces for our customers. Contact us today for information regarding customization of a piece, or pricing. We look forward to you experiencing the look on your special someone's face when you reveal their customized piece!
Custom Designed Bridal Jewelry
There aren't many events that are more magnificent and beautiful in an individual's life than a wedding. This statement is particularly true for the bride-to-be, and ideally, it is desired that the wedding is predominately flawless.
A wedding is supposed to be one of the most magical days in a happy couple's life and one that is fondly remembered for years. However, planning the wedding can be stressful and there are numerous variables out of the groom and bride's control. Conversely, there are aspects that can easily be managed – and better yet customized! Here at Kimberly's Jewelers our intention is to help our clients celebrate their special day in one-of-a-kind jewelry.
We offer various unique pieces that are guaranteed to dazzle on your special day. A distinctive and stunning piece can elevate any dress immensely and we provide the expertise to help you shine! We provide a great selection of bridal jewelry including necklaces, bracelets, and rings. Our stones are just as customizable with a selection of diamonds, pearls, or other precious stones. There are options customizable to any taste or budget!
Kimberly's Jewelers is unlike prevalent retailers. Our purpose is to provide our customers with an exceptional and exclusive product for an affordable price. Why pay more for ordinary jewelry? Here at Kimberly's Jewelers we can assure you that your bridal jewelry will be gorgeous and memorable.
Visit our website for more information pertaining to our custom bridal jewelry options. For any other questions or information please contact us or visit us in store. We look forward to helping facilitate your unforgettable wedding day!
Designing Custom Jewelry
The decision to purchase fine jewelry can often be comparable to an investment. The purchase is significant and executing it can seem daunting. There are countless pieces to choose from and each piece has the possibility to be less than perfect. When making such a remarkable purchase, or investment, most individuals would like their desires to be met to perfection. Here at Kimberly's Jewelers of Fort Walton Beach, our intention is to provide our customers with the piece that is closest to their ideals.
We understand that shopping for the perfect piece can become monotonous. There are so many pieces that have incredible similarities and can occasionally blend together. Our goal is to suppress this repetitiveness by offering jewelry customization with materials of the highest quality and competitive prices.
We offer jewelry customization with a variety of precious stones and a variety of metals including platinum, gold, white gold, and silver. Our numerous options can easily satisfy any budget or personal taste.
Choosing the perfect piece can seem intimidating – so don't choose! We are eager to assist you in designing and customizing the perfect piece specific to your needs. Here at Kimberly's Jewelers we can assure you that our services will be fast, friendly, and convenient. We are knowledgeable and passionate and will not settle for anything less than your satisfaction!
Visit our website for additional information on our services. Visit us in person or contact us through telephone or email for information regarding a quote or any unanswered questions. Let us bring your vision to life. We hope to see you soon!